Chetumal, place where nature has exceeded in beauty and color, proud capital of the state of Quintana Roo, located on the southern coast of the Mexican Caribbean Coast, where the Creole flavor influenced by the neighboring country of Belize and the magic of the ancient Mayan World, this combines to make it one of the most exciting and popular cities of the Yucatan Peninsula.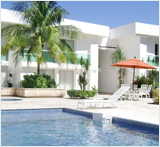 It is here where the Hotel "Los Cocos", with its renewed class and style, stands out as a symbol of the Chetumaleña hospitality. Its modernist architecture, the emerald green of its lush gardens and the warm and careful attention of its people, in addition to its prime location as well as the famous taste of its Mexican cuisine in its restaurant, it makes it a favorite for our visitors.
Our pride is to serve you to the best as the great personalities who have given us the opportunity to be their hosts. The only thing missing is YOU!
Come with us and know why the Cocos Hotel is the best of the hotels in Chetumal.

Av. Héroes #134, Col. Centro C.P. 77000, Chetumal, Quintana Roo. México. E-mail:
reservaciones@hotelloscocos.com.mx
| Reservations 01 800 7195 840 | Call us: +52 (983) 835 04 30 | Fax: (983) 832 09 20 |